To build a great product, you need a solid product roadmap to guide your team. A product roadmap provides a vision for your product, aligns your team around central goals and priorities, and gives everyone an idea of where the product is headed. While product roadmaps are an essential tool for agile development teams, other types of teams can benefit from them as well.
A good roadmap will communicate plans and progress to stakeholders within the team and across the company, and serve as a "single source of truth." Because of this, it's important to keep your product roadmap in a format, that will stay up to date instead of in several versions of the same file.
Planning with flexibility
Your roadmap should serve as a guiding light, not an unbreakable commitment. Include your biggest product initiatives, and then the details on how your team will achieve those goals.
Who is responsible for each initiative?
What tasks or features need to be completed before you can call it done?
When will the work be completed? During a particular sprint, month, or quarter?
Map it out, but be flexible; this should be an iterative process throughout the lifecycle of your product. Being rigid does your team more harm than good, as you need to be able to adapt when things change (and things always change).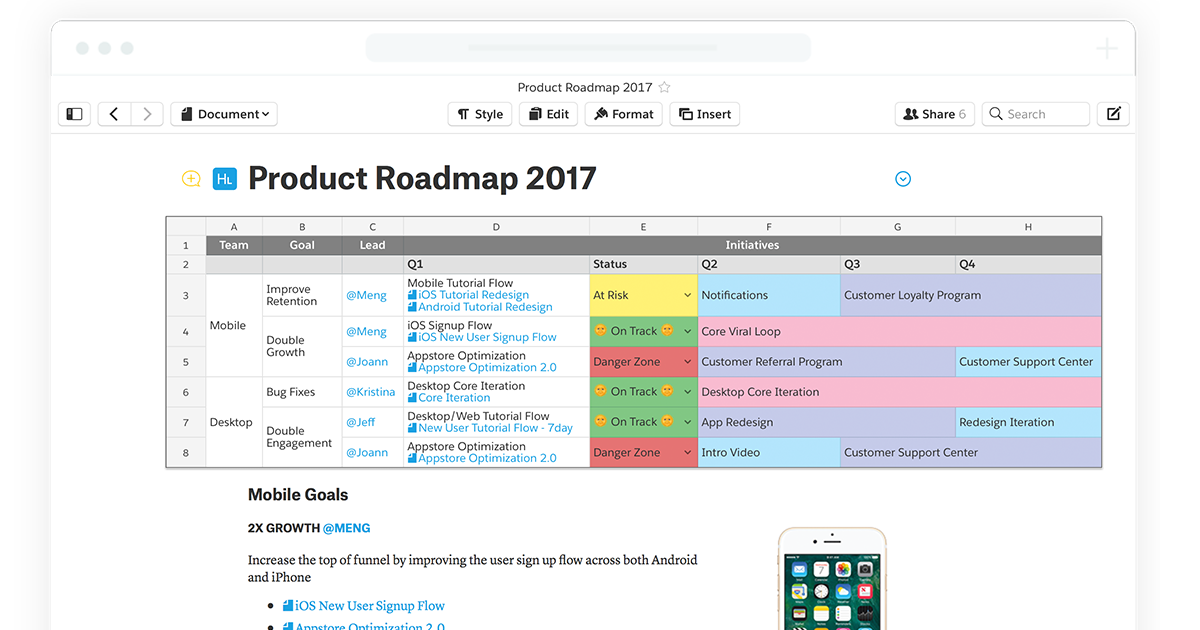 What to include in your roadmap
Before you build your roadmap, think about what you want it to accomplish —beyond being a document of your product's development.
Features – Consider your overall business strategy as well as what your customers have been asking for. You'll need to weigh these things, as well as think about resources, when deciding which features get prioritized over others.
Other peoples' input – Everyone on the team has something to add, whether it's the engineer who's built certain features before — so they can do it again quickly — or the support team who is in constant communication with your customers.
Supporting information – Make sure your roadmap includes links or anchor links to documents, customer feedback, interviews, and brainstorms that tell the whole picture of the things you're building.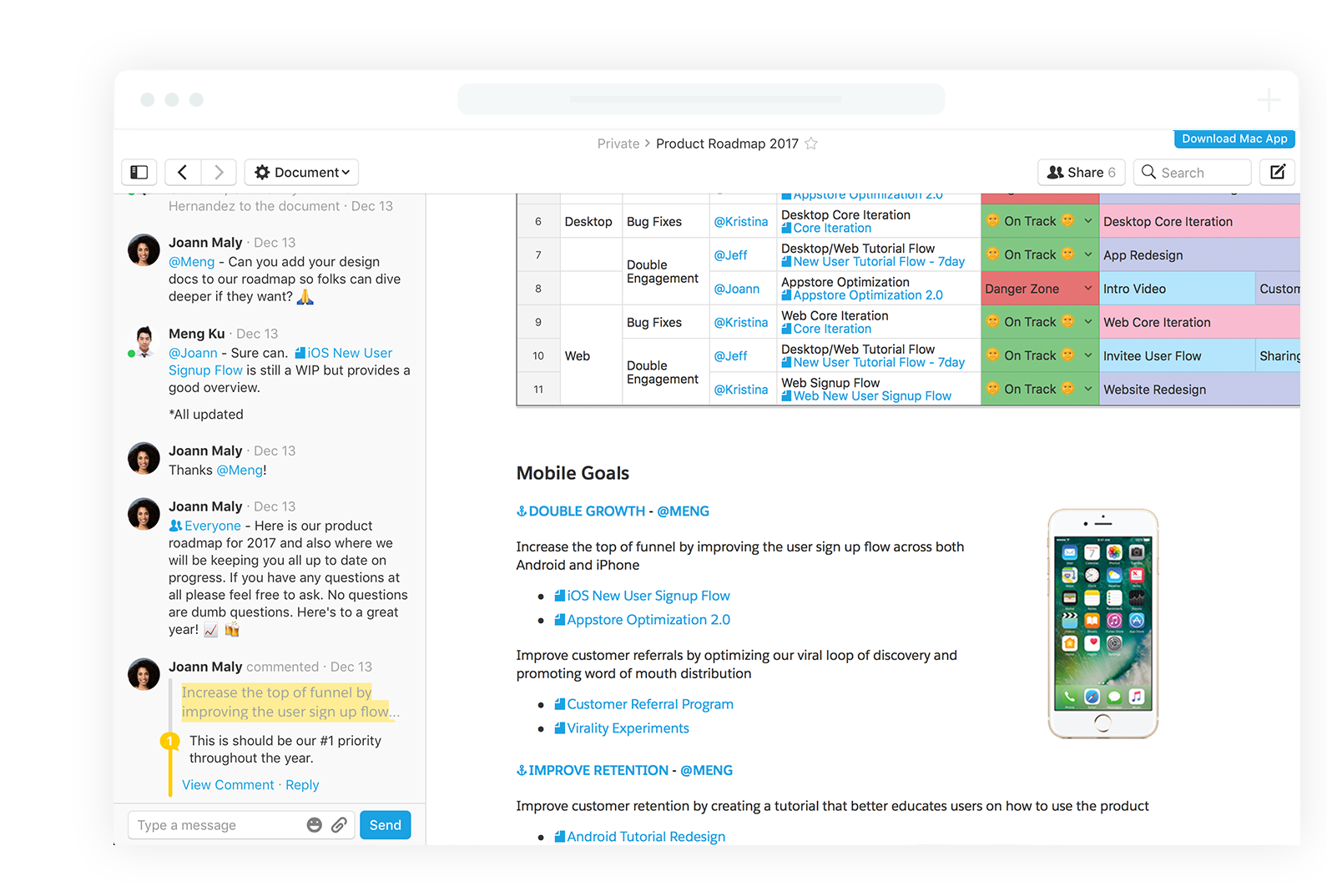 Build your roadmap in Quip
Quip is great way to research, create, and share your roadmap. With Quip, you can create a document and then embed a spreadsheet right in that doc. Your entire plan, from data to supporting information, can live in one, shareable place. Here are a few pro tips.
Create a status column with colors and emojis to add some personality to your planning. If something is "On track," make it green with a 👍. If it's "At risk," go with red and try a 🙀.

Use anchor links to include lots of information in a clean way. Within the cells of your roadmap, you can link to other documents, or areas below in the same doc.

Get things done quick with formatting tricks: Use option + enter to do a carriage return in a spreadsheet. Here's a full list.
Use @ mentions to create rich mentions of task, team, or initiatives
Use the document sidebar to collaborate with your team and other people at the company. Discuss and come to consensus in one, simple place.
Get things done and track work with check lists, due dates, and assignees.
Once your roadmap is ready, share the document — you can keep it to your team and key stakeholders, or make it visible to the whole company for ultimate transparency. Read more about your sharing options.
Ready to get started?
Check out our product roadmap template by clicking the link below and start mapping out your next initiatives. Here is what your roadmap could look like:
If you like it you can sign up and copy the template to your personal folder. The public version is view only, but your copy will be fully customizable.